Hello! How did May go for everyone? May was rough for me. Great stuff happened on the home front: there were plays, recitals, graduations… a lot of reasons to be proud of my kids.
But as far as writing went…OMG.
I finished my romance serial, which meant tons of publishing. I had to publish the last episode, the compilation of episodes 5-9 because I did a compilation of episodes 1-4 and then the compilation of all the episodes together. And, because I'm a little crazy, I decided I wanted a companion book to go with the series that was a nail design book. The story takes place around a beauty salon. I had blogged several nail designs throughout the serial, and thought it would be fun. The marketing strategy was to give it away for free to draw more interest to the series.
Surprisingly, everything came together well. Julie got the editing done quickly (I honestly can't praise her enough), and though it was very time consuming, the nail art came together too.
But I always crash at the end of a big project. I crashed hard after finishing episode 9 before I had completed the nail design book. Foolishly, I decided to stop drinking coffee for a while too because I had had so much to get all the publications out. That's when I realized that coffee keeps writers optimistic.
Without coffee in me, my opinion about my own writing plummets. But when I take that first sip before I start typing, I am the best writer ever. So I thought it'd be fun to put together this little poster for you: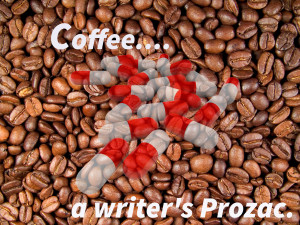 The depression might not have been so bad if I had had any sales. But sales were way down. Particularly Amazon has been abysmal this month. I'm actually even at All Romance between April and May on number of sales, and I made more money because I sold the higher cost books this month more than the cheap ones. Barnes and Noble and iTunes are the other places with sales, but not nearly as many as in April. Fortunately I made enough sales this month to keep me at a sale a day average for the year because April was so good.
I wish I knew what caused the swing. So far the nail book isn't helping me at all, but Amazon won't put it at free and it won't be out at iTunes and Barnes and Noble until sometime this week. Fingers crossed people love it there and buy my other books.
But the serial is done! I should really celebrate because it was a big project coming in at over 125,000 words. However, I must get on to the next book. It's already Tuesday, but I'd like to do a word count marathon. No gift card this week since it's a short one. Think of it as a warm up for next week.
My goal is 2000 words a day this week. It feels out of reach because I have several activities planned this first week of summer, but I have a publication schedule that needs attention!
So, ready! Set! Write!