Welcome to the Winter Solstice Blog Hop hosted by the Pagan Writers Press! Everyone in the Hop is giving something away, so please be sure to check out the other blogs!
Here at Enchanted Spark, we are all about inspiring others. When invited to join the blog hop, I first thought I'd do a flash fiction story taking place on the solstice, but the more I thought about it, the more I wanted to post a recipe to give readers energy and inspire them through the rest of winter. I'm proud to say this recipe only took me one try to get right. Usually I slave over these things. I'm writing the magical attribute next to the ingredients.
Solstice Spiced Coffee
(for energy, love and prosperity through the winter)
2 rounded teaspoons instant coffee
1/8 teaspoon nutmeg (prosperity)
1/4 teaspoon cinnamon (prosperity)
1 teaspoon sugar
1/2 teaspoon vanilla (divided) (love)
2 teaspoons maple syrup (divided)
boiling water
In a small bowl mix together coffee, nutmeg, cinnamon and sugar. Divide evenly into two coffee mugs. Pour six ounces of boiling water into each mug and stir. Add 1/4 teaspoon vanilla and 1 teaspoon maple syrup to each mug and stir. Enjoy with a friend!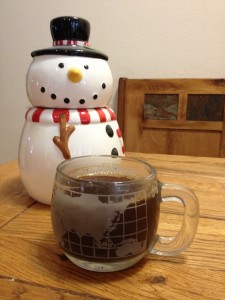 The book I'm promoting has nothing to do with winter solstice, although if you stretch the theme to include anything about the sun, then mine is perfect 😉 A Sunset Finish is about a violin, a ghost, and a romance:
Stephanie Minagawa travels to Albuquerque as a last resort for her music career, only to have her violin split apart in the arid air. When she takes it to a repair shop on the pueblo, she enters a world of spirits and yearning. Her body is taken over by the ghost of the craftsman's dead wife, and she must decide between the quiet death she's longed for, or claiming a new life of music and love.
The first three people who give me the title of their favorite winter food in the comment section will receive a free e-copy of A Sunset Finish in whatever format you need.
Happy Solstice!
Please visit the other blogs in the Pagan Writers Press Blog Hop!