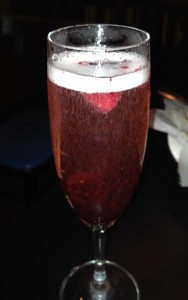 I'm much closer to my goal of 15,000 words a week. I made it to 13,000 words this time. I finished an episode for my serial and am already 2600 words into the next one. Maybe I can get Episode 6 finished in one week. I'd definitely toast with some Champagne and berries if that happened.
In a surprise event, Goodreads removed the ratings from the Troll I posted about at the end of 2015. I have no idea why they did it. I recieved no email from them about it, and I hadn't sent an email to them since our exchange back in December. Sadly, some other people gave me some one and two star ratings. The one stars have no reviews attached to them, so I have no idea what I did wrong. But, my overall rating is a respectable 3.8 now.
In better news Holly has a great blog post about Query Letters. Definitely go by and check it out. I think Indie authors can use the same advice for writing book blurbs. Also, Shari has a good post about setting writing goals for the year over on her blog.
How was your writing this week?