I apologize for the late post. Just a few weeks of summer left and then my writing schedule will return to normal.
A few years ago I visited Julie, and we made Browned Butter Shortbread Cookies. Do not make these if you are on a weight loss diet unless the diet is eating as much butter and flour as possible. Julie cleverly sealed them in a Tupperware container, but the Tupperware could not seal away the temptation. They were so freaking good.
Since then, I've been on a quest to see what recipes are turned from good to delicious by taking the time to brown the butter. Fruit Crisp was already at delicious, so browning the butter upped it to scrumptious.
If you've never browned butter, it's a little tricky. Put the butter in a pot and set the burner to medium. Let it melt, stirring occasionally. Once it melts, bring it to a boil, again, only stirring occasionally. Now for the tricky part. Let the butter boil until brown flakes float up to the foam. Remove from the heat and let it set for five minutes. It'll continue to brown. If you take it off too late, it'll turn black. You want it to look like this:
Another step that you might not bother to do but totally brings on the flavor is toasting pecans. To toast pecans, put them on a cookie sheet in an oven preheated to 400 degrees F. Bake for three minutes, stir, then back for three-four more minutes until the aroma fills the kitchen. Let them cool before chopping them.
Cherry Vanilla Browned Butter Crisp
2 pounds cherries stemmed and pitted
1/4 cup sugar
1 teaspoon vanilla
1 cup flour
1 cup rolled oats
1/2 cup toasted and chopped pecans
1/2 cup brown sugar
2/3 cup browned butter
In a 9×9 baking pan, stir together cherries, sugar and vanilla.
In a mixing bowl, stir together flour, rolled oats, pecans, brown sugar and browned butter until well mixed. Spread evenly over cherries and bake at 375 degrees F for thirty minutes or until crips is brown and fruit is bubbling.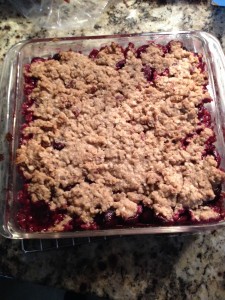 Serve with whipped cream or ice cream. Enjoy!